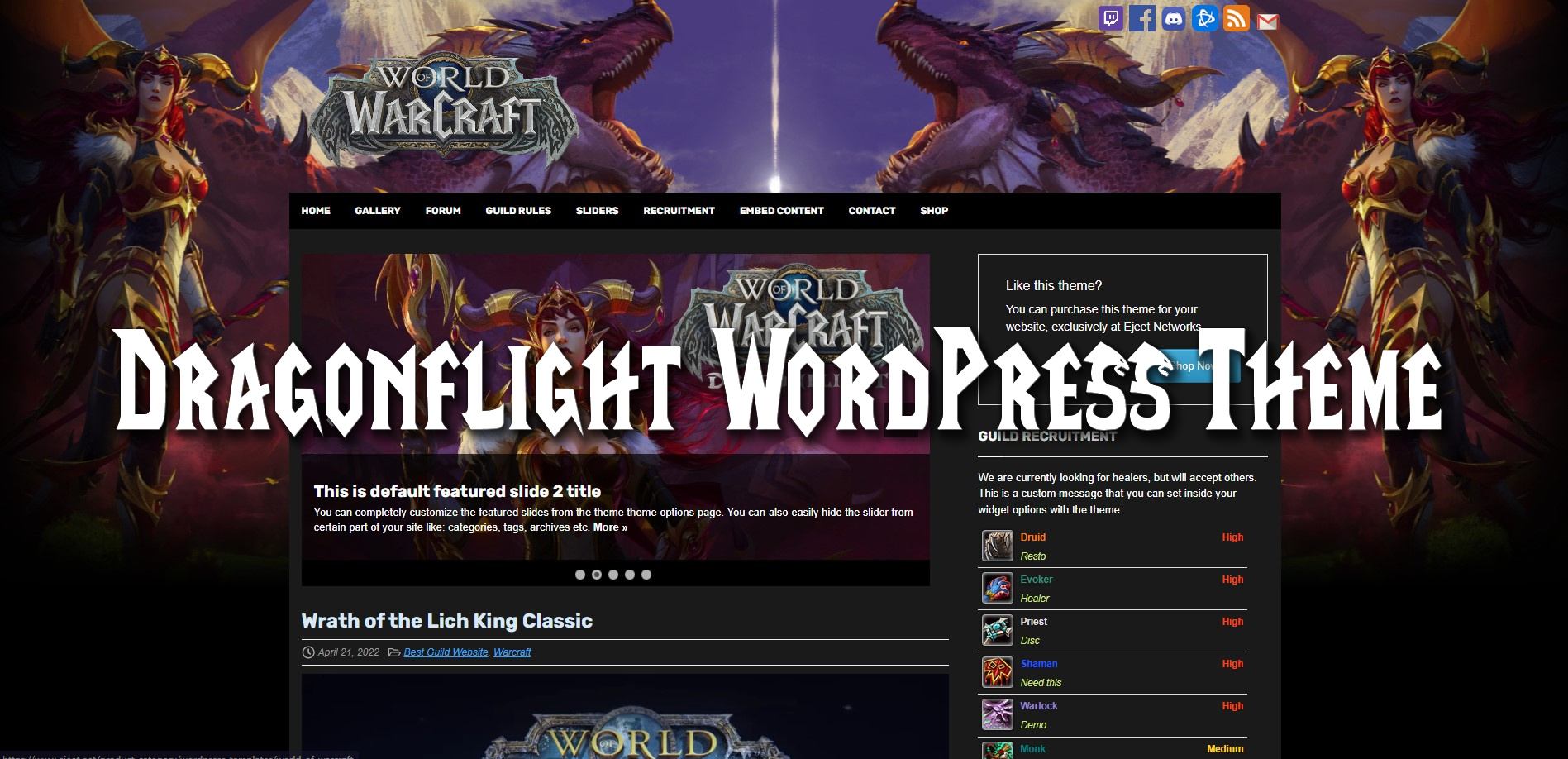 Maybe you missed the launch of our WordPress 6.1 theme for the new World of Warcraft Expansion Dragon Flight. If you have not seen our new best seller, then we highly suggest you continue reading because this is our very best wp theme for WoW ever released.
Dragonflight Theme For WordPress
Created by Gamers
Rest assured that every single person making the great website themes on Ejeet Networks are gamers. We understand and can relate to the features and options you want in a guild website, Our mission statement is to do our very best to include support for recruitment widgets, progression widgets, and even ranking widgets. Our themes were designed for World of Warcraft: Dragonflight by gamers who just as much if not more then you.
If you're looking for a World of Warcraft: Dragonflight WordPress theme, go no further than Dragonflight. In the wake of Shadowlands' meteoric rise to fame, we heeded your feedback and fine-tuned our WordPress theme until it was just right. See for yourself how swiftly and beautifully pages load with this WordPress template for World of Warcraft guilds theme, powered by a fresh new backend core based on PHP 8.0, by visiting our live demonstration site. WordPress 6.1 is completely supported by the Dragon Flight theme, and the theme has full compatibility with the Gutenberg editor and is extremely lean.
Modern Technology
All of our themes are built using the most recent versions of HTML, PHP, and CSS, and they all have full support for the Gutenberg editor for unrivalled ease of use. In other words, your website will be prepared for the future whenever it may ring. Forewarned is forearmed, and we make sure that your website is always equipped to handle the technology of future by incorporating a wide range of cutting-edge solutions into its daily operations.
You may freely customize the World of Warcraft theme, develop your own add-ons, and install them, as it is based entirely on WordPress's core theming system. If you use our theme, you can whip up a new article or page in no time. If you're looking for a World of Warcraft website theme, go no further; ours is the most intuitive option. Using our Dragonflight WordPress theme, your extremely standard WordPress site may magically convert into a polished gaming hub, providing a sanctuary for you and your fellow players online.
Ease of use
It's true: what you see is what you get in terms of content editing. Our themes employ the full power of the Gutenberg and Classic Editor. This means that creating content for your website has never been easier, with automatic embedding of images, videos from Twitch and YouTube, social media, and much more. Your website has the full power of WordPress, allowing you to have a great looking website while maintaining easy operation.
Create the online role-playing community of your dreams with our theme and the extensive media options offered by WordPress. Your site will look fantastic in every respect. Are you trying to come up with a name for a professional raiding guild? We've got you covered; from the very beginning to the very conclusion of the Dragonflight expansion, we've got a fantastic WordPress plugin in place for keeping track of every boss you kill. This ensures that you will never be caught off guard by a content update. Score pages for raider.io, wow-progress, and any other web-based system may likewise be included.
Do you want to see how the theme looks on a website that is currently online? You can get an idea of how your guild website might look if you use our theme by checking out the screenshots and the live demo that are presented on this page. For a quick rundown of what's provided, the demo site is a perfect representation of the core template you'll receive. In addition to add-ons that let you replicate the look and feel of our demo site in your own installation. Discord and other popular social media buttons are included in these plugins, and you can easily add or remove networks like these, as well as others (the theme is highly flexible): battle.net, twitch, etc. You'll be able to track your guild's growth with our progress tracker, use a recruitment widget that supports all current classes in Dragonflight including the Evoker, and access a plethora of other features. All the amazing plugins that are compatible with WordPress are also compatible with our theme. 
Plugins & Widgets
Our template is compatible with 99.9% of WordPress plugins. Ranging from recruitment plugins, to contact form mods, discord widgets, twitch badges, or raid kill trackers, you can do it all as long as the plugin is compatible with WordPress; then it will work on our video game templates. The power is in your hands, and customization is very easy and a core part of the experience.
Recruitment Add a cool, fully customizable widget to your website displaying the current recruitment levels. For example, you can have a widget display small, medium, or large class icons and simply set the desired applicant level to low, medium, or high. This also includes a linking ability allowing you to link this section to a page or contact form.
Progression Tracker allows you to take control of your guild's displayed progression, marking bosses as dead or alive; depending on your game, such as World of Warcraft, you could even set the kill level to N,H,M or Normal, Heroic, or Mythic. Simple to use: simply click, save, and go!
Most questions asked are listed in our Frequently Asked Questions.